The COVID-19 pandemic is still having a large global influence, but the situation is making more positive changes, creating conditions for sports to return to play without spectators track. For the world of speed racing, from July this will become very busy when a series of top racing events will return to the successive events.
To be able to organize sports events in the current condition is not simple, first, the tournament needs to make strict rules about health and safety for participants. After that, negotiate with each Government and local government in each country where they want to organize the race, pledging to organize a safe event without adversely affecting the neighborhood.
In the end, they needed a "nod" from the local organizers who were directly involved in the tournament organizing the event.
After a long time of negotiation and negotiation, the tournament was finally able to provide an official schedule for this season. By this time, all tournaments will only take place on a single continent, which is the "root" of the tournament, at this time due to the restrictions on international travel issued by countries. Therefore, the 2020 season is considered to be a "unique" year that can hardly be repeated in the future.
F1 has announced the schedule of the first 8 races in 2020 held in 6 countries in Europe, of which Austria and England are the two countries that will have 2 races, the remaining are Hungary, Spain, Belgium, and Italy (all will have no audience).
The first two races will take place at the Red Bull Ring racetrack on July 5 and July 12 respectively, and to avoid confusion between the two races, the organizers have given two different names for the race. The first leg will still be the Austrian GP, ​​while the second leg will be the Styrian GP, ​​taking the name of the vicinity of the racetrack.
This is also the first time a country has organized two consecutive races in the same season since 1995 in Japan with two Japanese GP and Pacific GP races.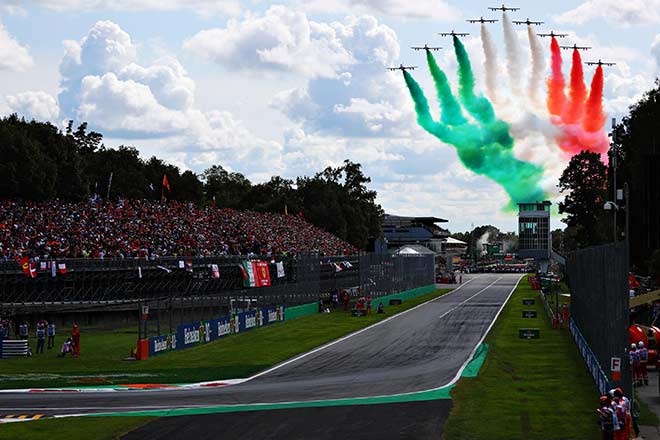 The riders will start the season non-stop when the 3rd race at Hungaroring, Hungary will take place only 7 days after Styrian GP, before they have a 10-day break.
Early August will be two races at Silverstone, England, and similar to Austria, the names of the two stages will be different – British GP and GP celebrate 70 years of the tournament (70th Anniversary Grand Prix).
Soon after was the Spanish GP in Catalunya, Barcelona. So two tripleheaders (3 consecutive stages) in early July and August are waiting for 20 riders to conquer.
Spa-Francorchamps and Monza are two racing courses that organize stages 7 and 8 on August 30 and 6, respectively. The races will then be announced in the near future, according to the tour schedule will pass through North America, Asia and finish in the Middle East in December.